Known as the king of essential oils, Frankincense has a variety of notable uses and benefits. This powerful essential oil is revered for its ability to beautify and rejuvenate skin when applied topically, and to promote cellular health and immunity and produce a healthy inflammatory response when taken internally,* among other benefits. With all of its many uses, there is no question as to why Frankincense was highly esteemed by ancient civilizations and used for the most sacred of practices. For some religions, Frankincense is correlated with one of the most prized possessions of ancient biblical times, as it was considered valuable enough to be given as a gift to Christ after his birth. Frankincense was also used during religious ceremonies for salves for soothing skin and perfume. The perfume or aroma that Frankincense emits promotes feelings of satisfaction, peace, relaxation, and overall wellness, which explains its unique value in ancient times.
As I look for remedies to ailments, Frankincense is usually one of the essential oils recommended.  If you would only have one essential oil, Frankincense is the choice.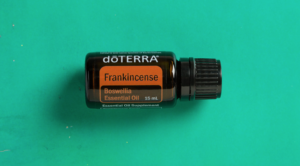 You can purchase a 15mL DoTerra Frankincense at Skin Rx LLC for $69.75 wholesale/$93 retail
Health Benefits of Frankincense Oil
Arthritis and Rheumatoid Arthritis (RA)
– Rub Frankincense on your hands after a long day to promote joint health.
You can mix Frankincense with coconut oil to rub on all joints on the body.
Colds & Respiratory Disorders – Immune System function
– Dab 1-3 drops on the bottoms of your feet, and enjoy wellness year round.
Oral Health
– Mix 1 drop of Frankincense Oil in coconut oil and oil pull- See my Oil Pulling article on how to oil pull for Oral Health.
Digestive Disorders
– Drop 1 drop of Frankincense Oil in a glass of water and drink on awakening or before you eat.
Uterine Health – Ease PMS Symptoms
– Massage 2 drops Sandalwood and 2 drops Frankincense oil over the abdomen and lower back to ease the discomfort of PMS pain. Dilute as needed with carrier oil of choice.
Scar, Wound, Stretch Mark, Wrinkle or Acne Remedy
-2 drops of Frankincense + 2 drops of Lavender and an ounce of carrier oil makes a beautiful serum!
Helps Reduce Stress Reactions & Negative Emotions
– Apply 1-2 drops of frankincense essential oil to the back of your neck and your temples for better focus.
May Help Fight Cancer, or Deal with Chemotherapy Side Effects
– Drop 1 drop of Frankincense oil under your tongue 4 times a week or drink 1 drop of oil in a glass of water.
Acts as a Sleep Aid
– One of the best ways to get the benefits of frankincense oil is by inhalation.
If you don't have an oil diffuser you can simply put a few drops of Frankincense oil in the palm of your hands then rub your hands together, and breathe the oil directly from them.